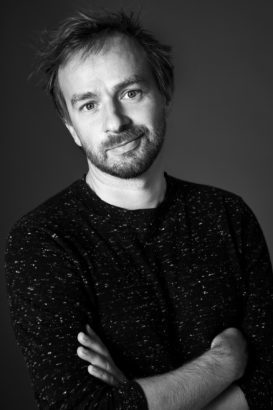 I see the light in Heidelberg, Germany, as the third son of a musician and housewife who speaks "ancient Greek fluently". The first time I set foot on a stage I'm eight years old. For a few years I will be on stage twice every year, being part of a theater company that stages plays for children. At this time I'm already quite full of myself and think that I ought to play only main roles. But I'm found to be too tiny. I'm really upset by this.
I finish school in the north of Germany, in the vivid town of Stadthagen (see a live-cam of the lively Stadthagen). In Stadthagen there is that little to do after school that my friends and I start shooting short films on video. It's also the time where I fall in love with film directors as Chaplin, Kusturica and Terry Gilliam, to name just a few. After my diploma, I work for the German Circus Roncalli. For six month I tour Germany with the Circus and watch the clown Fumagalli and Jango Edwards make people laugh.
Without much of a plan or any knowledge of the French language I arrive in Paris in 2001. After having tried some dance lessons, I run into the acrobatic teacher Lucio Nicolodi (Video of the Nicolodi Family at Circus Knie in 1979) who teaches me the basics of acrobatics. I start testing my acrobatic comedy acts on open-stage nights in Paris.
February 2003: I'm looking for an agent who will promote my acrobatic comedy act. I meet with an agent who it turns out, represents only actors and is looking for a young German at the time. So I find myself reading for the role of a German Officer in the latest film by Norman Jewison (The Statement). I don't get the part, looking too "young and innocent" (Norman Jewison), but I end up doing a bit part for three nights and even get double pay for shouting mean things in German.
From then on, I do a lot of small parts in French television. At the same time, I still work as an comedy acrobat on stage. In 2004, while directing a short film that would lead me to the web series parisk! in 2007, I get a phone call telling me that I got the part in Nina's home. This will become my first proper dramatic acting job.
In 2006, after having finished my last contract as a comedy acrobat, I stage my first play: Sacha. In 2007, I write, produce and star in the web series parisk!. When we start shooting in august 2007, I'm far from imagining that it will take me two years to bring this project to an end. In 2008, I start to write the screenplay for my first feature film, for which I get a scholarship in 2009.
To be continued…